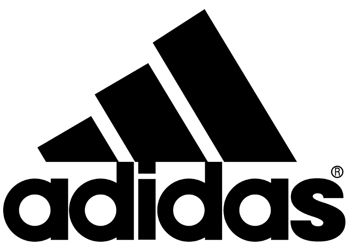 Adidas (stylised as adidas since 1949) is a German multinational corporation, headquartered in Herzogenaurach, Germany, that designs and manufactures shoes, clothing and accessories. It is the largest sportswear manufacturer in Europe, and the second biggest in the world.

It is the holding company for the Adidas Group, which consists of the Reebok sportswear company, TaylorMade-Adidas golf company (including Ashworth), 9.1% of Bayern Munich and Runtastic, an Austrian fitness technology company. Adidas revenue for 2016 was listed at €19.29 billion.

Adidas was registered on 18 August 1949 by Adolf Dassler, following a family feud at the Gebrüder Dassler Schuhfabrik company between him and his older brother Rudolf. Rudolf had earlier established Puma, which quickly became the business rival of Adidas, and is also headquartered in Herzogenaurach. The company's clothing and shoe designs typically feature three parallel bars, and the same motif is incorporated into Adidas's current official logo. The brand name is uncapitalized and is stylized with a lower case "a".
Tbilisi, Georgia
8, VAZHA - PSHAVELA AVE. TEL.: 2 14 19 91
----------------------------
1, RUSTAVELI AVE. TEL.: 2 93 45 31
----------------------------
TRADE CENTER "EAST POINT" TEL.: 574 78 99 11
----------------------------
TRADE CENTER "SITY MALL" TEL.: 571 71 00 66
----------------------------

Batumi, Georgia
44, BARARASHVILI Str., Batumi Tel.: 230 96 36 , 222 11 66